I need to do a little more with my free time than read, walk and watch TV, so I've decided to try writing about what I'm reading on a monthly basis (at least as long as lockdown lasts!), rather than leaving it all to the end of the year. Covid-19 meant that I read far more in 2020 than I expected to, and I didn't manage to get to a full round-up, so hopefully doing this on a monthly basis will be easier!
As usual, my reading this month has been mainly fiction, with just a dash of memoir and biography. My to-read pile was heavily influenced by recommendations in the media in the run-up to Christmas, and it has now shrunk to a panic-inducing level! As in the last few years, I'm trying to read more writing by women of colour, and I generally read more work by women, particularly Irish women, partly because I want to, but mainly because it's outstanding. Once again, I've signed up to the Goodreads Reading Challenge, which I find really useful for charting my reading, and in these pandemic times, I've given myself a target of 60 books this year. With nine read in January, I'm a little ahead of schedule, but with such uncertainty ahead, I'm not going to review the target just yet!
I started with the wonderful ­The First Woman by Jennifer Nansubuga Makumbi, the second novel by this Ugandan writer, and I just loved it. It was a real window into a world that was totally unfamiliar in many ways, but yet had parallels in some of our own Irish traditions, superstitions and prejudices. I'd highly recommend this one.
Next up was The Bone Garden by Tess Gerritsen, which I had obviously picked up as a recommendation somewhere as it was on my 'Want to Read' list on Goodreads – it's not a recent publication, and I really didn't love it. Neither the story nor the characters were particularly compelling and it wouldn't prompt me to read any more by this author.
My third book was Imperfect Women by Araminta Hall, which I had seen recommended by one of my favourite authors, Louise O'Neill. I have never failed to enjoy one of Louise's recommendations, and this was no different. Tense, thrilling, disturbing and surprising, it's everything I love in a crime novel, and the main protagonists are all women, which is even better! Follow Louise O'Neill on Instagram or read her Irish Examiner column for more recommendations.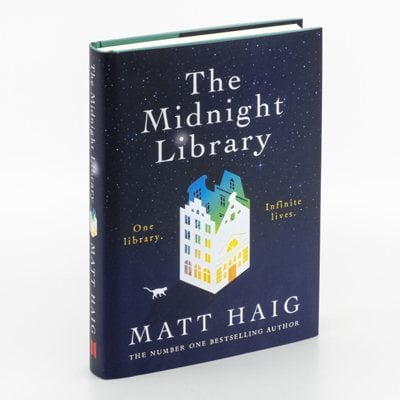 The Midnight Library by Matt Haig had been in my sights for some time, having caught my eye in my local bookshop, Midleton Books, and it was the perfect follow-up to two crime novels! This is a really lovely, gentle story of choices and regrets, with a wonderful lead character. Be warned, however; the premise it's based on is a fantasy (perhaps!) so the pragmatists out there might want to avoid it.
My next choice was a rather unusual one for me, and I think was based on a recommendation in a newspaper. The Sphinx: The Life of Gladys Deacon – Duchess of Marlborough, by Hugo Vickers, tells the story of an extraordinary life, though one as unfamiliar to me in many ways as anything in The First Woman. It reminded me very much of Anne Glenconner's autobiography, Lady in Waiting, which I read last year and found fascinating. The extraordinarily privileged and yet utterly constrained lives of these women are also reflected in the new Netflix series, Bridgerton, and really served to remind me of how very glad I am to have been born into a time and a world where women have a level of independence and autonomy that Gladys Deacon could only have dreamed about. Ours is the true privilege, even though full gender equality remains elusive.
It was back to fiction after that, with Tana French's The Searcher. I have a mixed relationship with French's work – I've loved some books and struggled with others. This one I didn't love – it wasn't awful, but I didn't find it particularly gripping. I then moved on to Strange Flowers by Donal Ryan, and this was just beautiful. Ryan tells a story that is both simple and complex, uplifting and tragic, in wonderfully crafted prose, and parts of it really caught me by surprise. I loved it.
Next, I moved on to Ok, Let's Do Your Stupid Idea by Patrick Freyne. I always enjoy Freyne's writing in The Irish Times, and this memoir, which reflects the world in which I also grew up, was really interesting. I smiled, cringed and felt twinges of sadness at various times throughout the book as Freyne related stories from his past and present.
The last book I finished in January was Snow by John Banville. I think I've read everything Banville has ever written, going right back to Kepler when I was in college, and I can rarely be certain that I've enjoyed the books. He writes beautifully, but also disturbingly, and there were elements of this crime novel that I found a little too disturbing. It's strange to see him write in the crime genre under his own name rather than as Benjamin Black, and he even references Black's protagonist, Quirke, who is apparently on leave at the time of the incidents in this book. If you're a Banville fan, you'll read it anyway, but if not, I'm not sure whether or not I'd recommend it!
I've just started Bring Up the Bodies by Hilary Mantel, a Booker Prize winner and the second in the Wolf Hall trilogy. I'm very late to the party on this historical trilogy, and only read Wolf Hall late last year (it won the 2009 Booker Prize), so anyone reading this has probably already read them, but if not, I would highly recommend that you do so. It's historical fiction, but not as you know it – the character of Thomas Cromwell is utterly compelling and the complex storylines are both smooth and fascinating.
I'm also listening to The Story of China: The Epic History of a World Power from the Middle Kingdom to Mao and the China Dream by Michael Wood on Audible, but I'm finding it hard going and am rather regretting not reading the actual book as I think that might be a better option.
I try to support independent bookshops where possible, especially in the current climate. My local, Midleton Books, is now selling online (if they don't have what you want, they'll order it), and I also buy from O'Mahony's Books and Vibes and Scribes. Not as small or independent as these, but still Irish, Dubray Books also offer an excellent service. Readers from outside Ireland will have their own favourites, no doubt!
February, here we come…